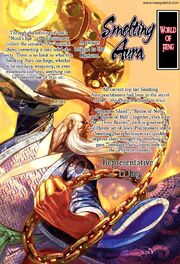 Smelting Aura
is a power unique to
humans
and the inhabitants of
Phantom Island
, the
Citizens
of
Wan Qu
.
Description
Edit
Through the refining of one's "Mind Eye", the practitioners collect the invisible "Air" around them, converting them into solid objects. There is no limit to what the Smelting Aura can forge, whether it be an ordinary weaponry, or even mountains and seas, anything out of thin air.
All current top-tier Smelting Aura practitioners had been to the secret realm- "The Phantom Island"- to train.
"Phantom Island", "Realm of Men", and "Realm of Hell"; together they form the "Three Realms", each is governed by a different set of laws. Practitioners of the Smelting Aura Technique can quickly improve their strength by absorbing the pure "Smelting Aura" found only in the "Phantom Island"  - Representative Li Jing
Ad blocker interference detected!
Wikia is a free-to-use site that makes money from advertising. We have a modified experience for viewers using ad blockers

Wikia is not accessible if you've made further modifications. Remove the custom ad blocker rule(s) and the page will load as expected.